Transcription
Folio 3r
Deys vorschreffen her Arndt van Harff mo-der was eijn dochter vā hoemen en hie hadt tot eijnē weijffe eijn dochter vā dē boengart de left noch ende wondt opt slot tot breydebent eyn lande vā goelich.
[Datum op Korsdach dusent CCCCC vnd LIIIJ] 0101 The missing text in folio 3r is likely to be the same as the one in the Munich Manuscript Cgm 2213/32; see Peter A. Jorgensen: Die Bodleian Handschrift der Reisebeschreibung des Ritters Arnold von Harff, in: Rheinische Viertel-Jahrs-Blätter (52, 1988). (gnes Hilger)
Folio 3v
Folio 4r
Demen durchluch-tighen hoigegegeborē vurstē Ind vurstynnen / Heeren en̄ vrauwen / Heeren Wilhem / en̄ vrauwen Sybilla marckgraefinne van Brandenburch &c Hertzoch ind Hertzochīne / tzo guylge / Ind tzo demBerge / Greue ind graef -inne tzo Rauensburch / Heere Ind frauwe tzo Heynsberch Ind tzo lewēber Leuenborgk -gs / Mynen willighen schuldighē dyenst altzyt tzo beuoiren
DVrchluchtighe Hoigegeboirē vurste Ind furstynne / lieue heere Ind frauwe As ich Arnolt van harffe Ritter gheboerē vss vrre vurstelichen genadē landen des hertzochdoms van Guylge / hab eyn loebliche pilgrȳma-cye vollenbracht Indem Iair doemē screiff nae Christus gheboirt dusent vierhondert xcviijj des tzienden daichs = 1499:10 octobr Octobri byn Ich eirst tzo vrre vurstlicher genaden komen tzo heynsberch / Die wilche mich eerlich ontfangen ind wil-kome geheyssen hait Mit schinckonge / ind ander gunst mich aldae gegaebet Des ich altzyt mit mynē schuldigē willigē diēst / wil vm vrre vurstliche genaden / truwellich verdienen / So / doch dair vmb haen ich mich weder gemoeyt ind geflyssen vrre beyder ghenaden tzo eeren ind wael bevallen / desen
Folio 4v
pilgrymmacyen wie Ich die vollenbracht haue die grūt-lich off tzo schryuē Ind dae van eyn boich zo maichen / Of vrre vurstliche genaden inder meynonghe wurden dese pilgrymmacyen zo vollenbrenghen Dat dan vrre vurstliche genade in desen boiche met mir zo willen een guede wegewysonge vynden moechte / Biddē dair vmb vre vurstliche ghenaden dit boich in danck zo nee-men ind myr vertzyen of dit boich nae mynē cleynen verstande nyet so oirdentlich gedicht en stunde / Men sal auer den rechten ind wairachtige wegewysonge hye inne vynden Wye wael genedichster heere dz dae synt vyl moyt willige onuersorchter kleffer ind eerē rou-wer / die genslich vermeynen dat geyn ander lant vnder der sonnē en sy / dan dae sy woenaftich synt / vermeynē-de dair vmb wat der wendeler saige ydt sy geloghen Och dat auer got wouldt Ich mit der eyner vuer vre vurstliche ghenade It weer ouch vuer der koenynck-licher maiestaet / hertzoch / heeren / Ritter ader knechtē bescheydē mucht werden dan ich die ind mich wael verantwerdē weult //
LOff danck sy got dem vader in ewicheit / dem soen Inde deme heyligē geyste / zo trooste end heyll myne zielen selicheyt / hain ich Arnolt van Haerue Ritter etc. / vur mich ghenomen eyn loebliche pilgrymmacie zo vollenbrenghē Als myt naemen
Item eirst van Collen zo Rome vmb gracie zo erwer-ven van vnserm geystlichen vader dem pays / oirlof zo ne-men wer dat mer zo trecken
Item van Rome nae monte synay dae der heiliger Ionff-frauwen sent Katherynen corper vnder restet / Durch
Folio 5r
die groisse stadt Alkaer dae der groysse heer der soldayn hoff heldet vmb van yeme gracie zo erweruen / sicher ind velicher durch Egipten Arabien Sueyen / groysse Armenygen / dat heylige Lant / ind ander syn / landen zo trecken
Item van Montesynay durch vyl probyncien Ind lant-schafften nae dem konȳgriche Mackeron genant zo / eȳ-re stadt Kalamya genant dae des heyligen Apostells sent Thomas licha[?]ē lycht zo suechen
Item voirt vander stadt Calamya zo suechen dem oir-spronck des Ffloes nyli / den man sayt hey vss deme paradyse gelouffen kome
Item van danne den Nyle aeff bys bys zo der groysser stadt Alkayr
Item van Alkaijr ouer lant naeder heyligher Stadt Iherusalem
Item vander heiliger Stadt Iherusalem zo Baruthy Capacidonija genant dae der Ritter synt Ioeryen dem draichen oeuerwonnē hayt Item voirt van Baruthy zo Anthyochia / allet oeuer lāt dair sent Peter der Apostell dem eyersten payslichē stoyll gehadt haidt
Item van Anthyochien weder her wss oeuerlandt nae sent Anthonyen de vyenna / dae hee lyffachtich restet durch Constantynopolen dae der turcksche keyser ger-ne hoff heldet / vmb van yeme gracie ind geleyd zo erweruen de ziecherre ind de velicher durch karmanyen Turkyen / kleyn Armenijen Romanyen Grecyen wal-lachyen Tracyen / groyss Bolgheryen vnder Bulgaryē Scherffyen Bosnacyen ind anderen vyle landē zo trechē /
Folio 5v
Item voirt vā synt Anthonyē de vyenna nae der stadt Cō-postella in galycien gelegen zo dem verren sent Iacob ghenant
Item voirt van Compostella oeuer landt zo sent Mych -hyel In normandyen / dae hee ghemeetlich restet Item vā sent Mychiel oeuer mer durch engellant bys in Hybernyen dae man sait sent Pantracius vege-fuer inne sy zo suechen
Item van danne voirt oeuer wasser nae dem heylighē bloede
Item van dem heylighē bloyde weder nae Collen dae dye drye heylighe konynck restent / Danck loff yen sagend dat sy myr In myner pelgrȳmacien / bystendich geweest weren
So doch gnedyghe heere haue Ich dese tzwae letste pilgrȳmacien Als dat vegefuer Inde zo dem heyligē bloyde nyet zo deser tzyt In eynē tzoich vollenbracht vmb wylle etzlicher edel luijde / ambasiaten zo derre tzyt van vrre furstlicher genaden In franckrych zoe der konyncklicher / werden gheschickt waren / dye mich in deser Reysen zo parys funden / Ind mich aldae wendich maichten
So doch gnedighe Heere byn Ich noch in willen dese tzwae pylgrymacien In kortz zo versuechen Die wil-che Ich dan ouch vrre furstlicher gnaden schryftlich van Steden zo Steden / Van dorffer zo dorffer / van spraichen zo spraichen hantreyken will hynder an dit boich layssen zo settzen //
Item dysse pylgrȳmacien wye Ich den vollenbracht Folio 6r haue wyl Ich hye mit godlicher hulffen nae mynen cleynen verstande dey all hy off schryuen van lan-den zo landen / van Steden zo steden / van dorffer zo dorffer / van Mylen zo mylen / van dagereysen zo daghereysen / van spraichen zo spraichen / van gelouffē zo ghelouffen Ind wat Ich ghesyen hayn Ind mich wederfaren ist / Doch wye wael ich vyl landen Ind Steden vmb tzogen byn / buyssen dem rechtē weech deser pylgrȳmacien / die Stede Ind lantschafft / Inde manyeronghe van dem volck zo oeuersyene / dat neme allet vyll zo schryuen / Wil dair vmb hye mit de-ser schrifft by dem rechten weege deser pylgrȳmacien blyuen / vmbdem wille / off yemant des zo synre vour-de / der dese pylgrȳmacien vollenbrengē weulde / dat hee dyt boych oeuerlese / Ind neemen zo danck / dist vur eyn guede wegewysonghe Biddende dem al-mechtigen godt vur dem dichter Ind pylgrom etc.
Item Is yt yerst zo wyssen dat in duytsche lant synt mylen die vnss kundich synt / gemeynlich eyn vre rydens vur eyn myle In lombardyen Italyen Dae vouff mylie maichen eȳ duytsche myle Ind anderen welschen lā -den as Sauoyen Pascaen Iasconijen Hyspanyen Ind in Franrkrych / heysschē It lyge / die synt zeer onderdaē Etzliche de tzwae lyge maychē eyne mijle Etzliche dry maychen eyn myle Etzliche vier maychen eyne myle As man dat vnderscheyt in desen boich wael vynden zall Ind in turkyen Ind heytensschaff synt geyne / mylen dan daghe Reysen
Folio 6v
Item In dem Iaire Na Chrystus gebuyrt dusent vier-hondert Ind sessind nuyntzich des seuenden daiges nouem-brj byn Ich Arnolt van harffe Ritter etc. / myns Alters xxv Iairs van Colne vss ghetzoighē halff In eynem swaeren moyte vmb etzliche edel luyd Ind anderē willē dye myr by yren eyden zou gesacht hattē myt zo tze-hn / doch valenkentich woirden / dae by neme eȳ ijtlich pylgrom war dat hee syner geselschaff gewys sy Doch doe quaem Ich by tzween kouffluyde van Coellē dye myr gar guede geselschaff aen deden bys zo veneedich ¶ Dysse pylgrȳmacie / byn Ich dat meysten deyll myt kouffluyden getzoigen / dae It gar guet myt tzie Ist / Sy wyssent spraich Ind wege / Sy nyement geleyde vss dem eyme lande in dat ander / Inde doent eyme gar guede gheselschaff
[Arnold and the three Holy Kings]
Folio 7r
Item eirst van Coelne zo bonne

synt iij mylen

Itē van bonne zo wynteren synt

ij mylē

Item van wyntere zo Reymagen

ij myle

Item vā Reymagen zo brysach

ij mylen

Item van brijsach zo Andernaich

ij mylen

Item vā Andernaich zo Couelens

ij mylen

Item van Couelens zo Rens

ij myle

Itē van Rens zo Pobarden

ij myle

Itē van Pobarden zo hertzenawe

j myle

Item

vā hertzenawe zo synt geweerj myle
Itē van synt

Z

gheweer zo weesell j myle

Itē vā weesell zo bacherach

j myle

Item

vā bacherach zo drecks huysen j myle

Item van drecks huysen zo byngen

j myle

Itē vā byngen zo Ingelhuysen

ij mylen

Itē van Ingelhuysen zo meensse

ij mylen

Itē van meensse zo oppenheym

ij mylen

Itē van oppenheym zo wurms

iiij mylen

Itē van wurms zo spyre

vj mylen

Item vā Spyre oeuer dē Ryn zo varen bys zo broessel Eyn steetgen spyers

iij mylen

Item vā Bruessell / Hye heefft zich swabenlant an / zo breyten / Eyn steetgen palsgreeffs

ij myle

Item vā breyten zo smeen

j myle

Itē van smeen zo feyingen wyrtzēberchs /

j myle
Itē van feyingen zo sweperlijngen

wyrtēbergs

ij myle

Item van Swepertingē zo Canstat wyrtzēberchs /

j myle
Itē van Caustat zo Esslingen eyn Rychstadt licht off Folio 7v deme necker / eȳ wasser j myle
Item van Esslynghen zo gyppȳghē /

wyrtēbergs

/ iij mylen

Item van Gyppynghen zo geyslingen / vlms

ij mylen

Itē van geyslingen zo vlme

iij mylē
Dit is eyn vry Stadt / licht off der donauwen / Ouch / loufft eyn cleyn wasser durch die stadt In die donauwe blaus geheyssen In desser stadt lycht eyn schoen doem / zo onser lyeuer vrouwen genant Ouch is dye stadt der vier dorffer eyn des rychs
Item van vlme zo mēmynghen eyn vry stadt / lycht off der ylen eyn wasser / vj mylen / Off haluen wegen lanxt eyn vryheyt myt eynē berch slos / kyr-burch ghenant eyn graeffschaff
Item van Mēmyngen zo Kempten eȳ Rychstadt lycht off der yler eyn wasser

iiij mylen

Itē van Kempten zo nesselbanck eȳ groyss dorff des busschoffs van Ausburch

ij mylen

Item van Nesselbanck zo fijls

j mijle

Item van fyls zo Rute eyn dorff lycht off der lech eyn wasser

j myle
Item van Rute eȳ half mijle an eijn Cluyse tusschē tzween hoege bergen vanden eyme berge zo deme ā-deren gemuyrt eyn potze / en bouen der Cluysen off die rechte hant off dem hoegen berge lycht eyn sloss / Erdenberch genant dat hertzoch Zegemont zuge-hoirt dae syner gnaden landen an heuen / die yetzont der Konyncklycher maijestaten Maximiliane zo ghe hoiren-
Itē vander Clusen zo lermoys eȳ dorff

j mijle

Item Lermoys bys an den verner

j myle /
Folio 8r

Item voirt dem hoighē berch off Ind aeff

j mijle
Durch eȳ Cluyse inden gronde dae gar eyn schoin slossgen in lycht off die lincker hant / off eynen cleynen feylsse in eyme wasser / hartzoch Sygemontz floss ge-nant / dae pleecht hee syne heymeliche waellust zo hauen
Item vander Cluysen zo Nazareth eȳ dorff /

j myle
Indem wege off die lincke hant seicht man onder ey-nen santachtighen berge eynen cleynen wyer staen / vol visschen / der zo somer tzyt gantz druych wyrt dat sich die cleyne vyssche mit an deme santachtighē berge verlyesen Ind wair idt vysser wartz geyt / so kumpt dat wasser weder vssdem berge In hauende cleyn vyssche die met dae Inne gesatz werdē mit henden
Item van Nazareth / hy scheyden sich tzweȳ wegen der eyne geyt off die lincke hant nae ijjsbruyck Ind der ander off die rechte hant nae Eyms / een groys / dorff

j mijle
Van Nararetz lanxt dit dorff loufft eȳ wasser dye Inde geheyssen Ind kumpt her aff van Synte Claes berge Ind loufft vffwartz aff nae ysbruyck
Item van Eyms zo landeck

ij mylen
Eyn vryhz met eyme berchsloss / gehoert dem Roem-schen konynck zo lanxt eynen hoegē berchsloss / off die lincke hant Kraemborch genant / koenijnx /
Itē van Landeck zo bruyxell eȳ groys dorff lanxt eȳ hoych berchsloss / heyscht Rauensteyn

j myle

Item van bruyxell zo Reet eȳ groys dorff /

j myle
[...]
Folio 123r
| | | | | | | | | | |
| --- | --- | --- | --- | --- | --- | --- | --- | --- | --- |
|  Joth |   theth |  heth |  Saen |  Vau |  Hee |  deleth |  gijmel |  beth | Aleph |
| | | | | | | | | | |
 Pe
  Syn
 Samech/
 Nun
  Nun
 Men
 Men
 Lāmed
    kaff
  kaff
 taff
  Schyn
 Resz/
 kuff
  zodick/
 zodick/
 ffe
| | | | |
| --- | --- | --- | --- |
| lehem | broyt | tangol | eȳ hayn |
| joien | wijn | tangoles | eȳ hynne |
| moim | wasser | daegim | vysch |
| boissar | fleysch | meela | saltz |
| befinna | keyss | toeff | guet |
| betzim | eyer | va | boiss |
| hemetz | essich | Onoge | ich |
| Semen | oelich | emmes | waer |
| kisiff | gelogen | baesleisse | eȳ heymlich |
| eysch | eȳ man | kaff | eȳ leffel |
| eyscha | Eȳ vrau | karo | eȳ schottel |
| ken | jae | measlaufen | wyss |
| lo | neȳ | schagosim | eȳ gulden |
| eufasa | eȳ gansss | Adonay | godt |
| offena | eȳ schiff | Elohyn | der here |
| tzut | eȳ pert | Zathan | der duuel |
Mispa
voeder
Malach
eȳ engel
Eusapbum
heuwe
kiszones
eȳ hempt
deesse
Grass
ferrohatz
wesschen
tofen
stroe
Maritz
dat bathuys
balbaes
eȳ wirt
hylich
gay¯
beyueren
drinchen
Agila
essen
slaiffen
| | |
| --- | --- |
| Kamme tetim ly | wye wiltu mir dat geuen |
| Ma schemo | wat is syn name |
Eȳ frage
Jehuede atta
bystu eȳ Jude
Antwoirt der and¯
ken dibarta
du haist gesaiicht
Plonosa anoge tzogeff entzelga see hale gla
Vrauwe laist mich dese naicht by vch slaiffē
Anoge etten lagae zahaff
ich will dir eynen gulden geue¯
¶ Tzellen
Ehat
eyn
Ahat aschar
xi/
Senaim
tzwae
scuim aschar
xij/
Scloissa
drij
Scloissa aschar
xiij/
Harba
veir
Harba aschar
xiiij/
Hemmissa
v
Hemmissa aschar
xv
Schessa
vj/
schessa aschar
xvj/
Scheua
vij/
scheua aschar
/xvij/
schemona
Viij
Schemona aschar
/xviij/
Tischa
ix/
tischa aschar
xjx/
aschara
x/
Escherim
xx
Gleff dusend
| | | |
| --- | --- | --- |
| toeff boker | gueden morgen | Schin emagem |
| toeff laila | gueden naicht | Godt sy mit vch |
About
About this text
Author: von Harff, Arnold
Edition: Taylor edition
Series: Taylor Editions: Guest
Editor: Edited by
Agnes Hilger.
Edited by
Eva Neufeind.
Identification
Oxford, Bodleian Library, MS. Bodl. 972 (fols. 3r-8r, 123r - 124r).
Contents
The Travels of Arnolt van Harff from Cologne to Italy, Egypt, Palestine and India, and back by Madagascar, the Upper Nile, Constantinople, and France, in 1496-99. These are illustrated with 47 coloured drawings. Colophon: (fol. 162) Anno 1554 B.I.P. Fols. 105v-106r give an account of a knight arrested at Gaza.
Physical description
Materials: Paper
History
Origin
Written in Germany in 1554
Provenance
In 1654 the book was owned by F. W. van Klipping, who wrote some verses etc. on fol. 167. On the inner front cover are an inscription and a printed bookplate, both nearly erased, and on fol. 1 is an English letter from Karl Etter of London, presenting the volume and his Russian Diploma (not found) to the Library, Nov. 5, 1813. Acquired in 1813.
Other Resources
About this edition
This is a facsimile and transcription of an excerpt from Reisebericht..
The transcription was encoded in TEI P5 XML by Agnes Hilger and Eva Neufeind.
Availability
Publication: Taylor Institution Library, one of the Bodleian Libraries of the University of Oxford, 2021. XML files are available for download under a Creative Commons Attribution-ShareAlike 4.0 International License
. The images are from the Bodleian Library https://digital.bodleian.ox.ac.uk/objects/9eb27b9a-6d1b-40b3-97db-fda64e5a2ab9/ .
Source edition
von Harff, Arnold Reisebericht Germany, , 1554
Editorial principles
Created by encoding transcription from manuscript.
The long "s" has been normalised to a regular "s"
Despite that, the transcription aims to be as close as possible to the original.
The letters "u" and "v" have been transcribed as in the original and not been normalised
The so called "Nasalstrich" that indicates "n" or "m" has been transcribed according to its Unicode character U+0305
The punctuation is the same as in the original, which mainly uses slashes and paragraph marks
er-Hakener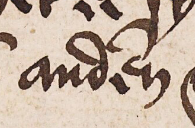 [example 1]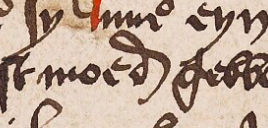 [example 2]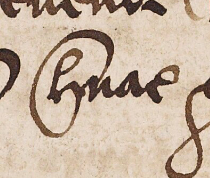 [example 3]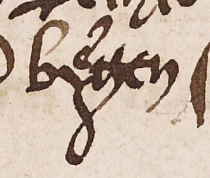 [example 3]
[Note:] There are several ways in which re writer abbreviates the letters "er" "r" or "re". The images show prototypical examples.e with n- or m-indicationn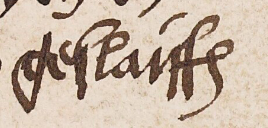 [example]
[Note:] The writer abbreviates n or m at the end of words after e by writing the e biggern with d-indicationd

[example]
indicated en after sen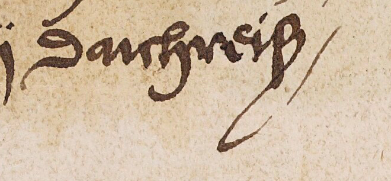 [example]
[Note:] Usually after the long s the en-ending is abbreviated by a small strokep with ro-abbreviationro
[example]
[Note:] After p the letter "ro" are sometimes abbreviated by a stroke on the platin ending usus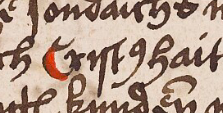 [example]